Cubio™ Mono Font Family (Desktop + Web Fonts)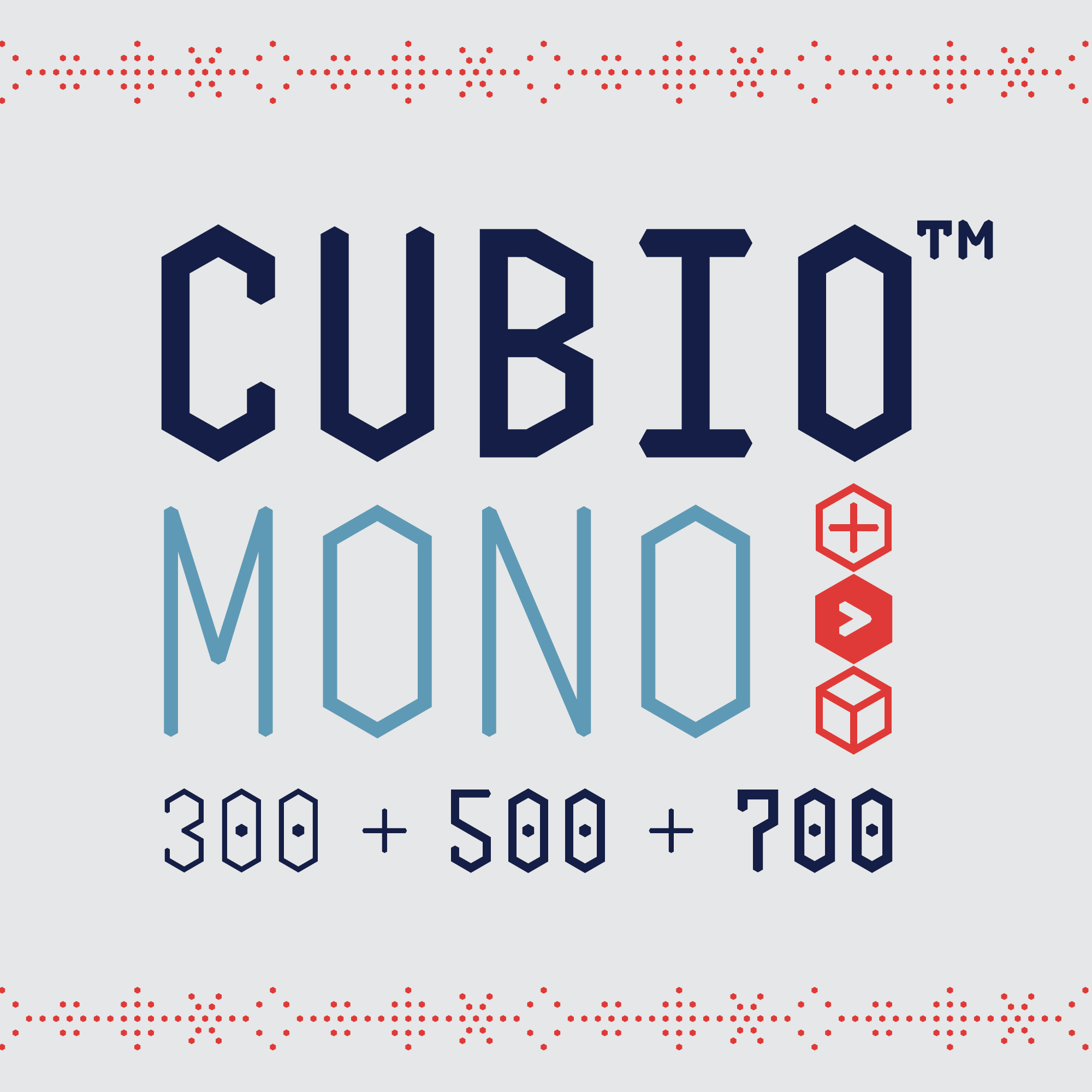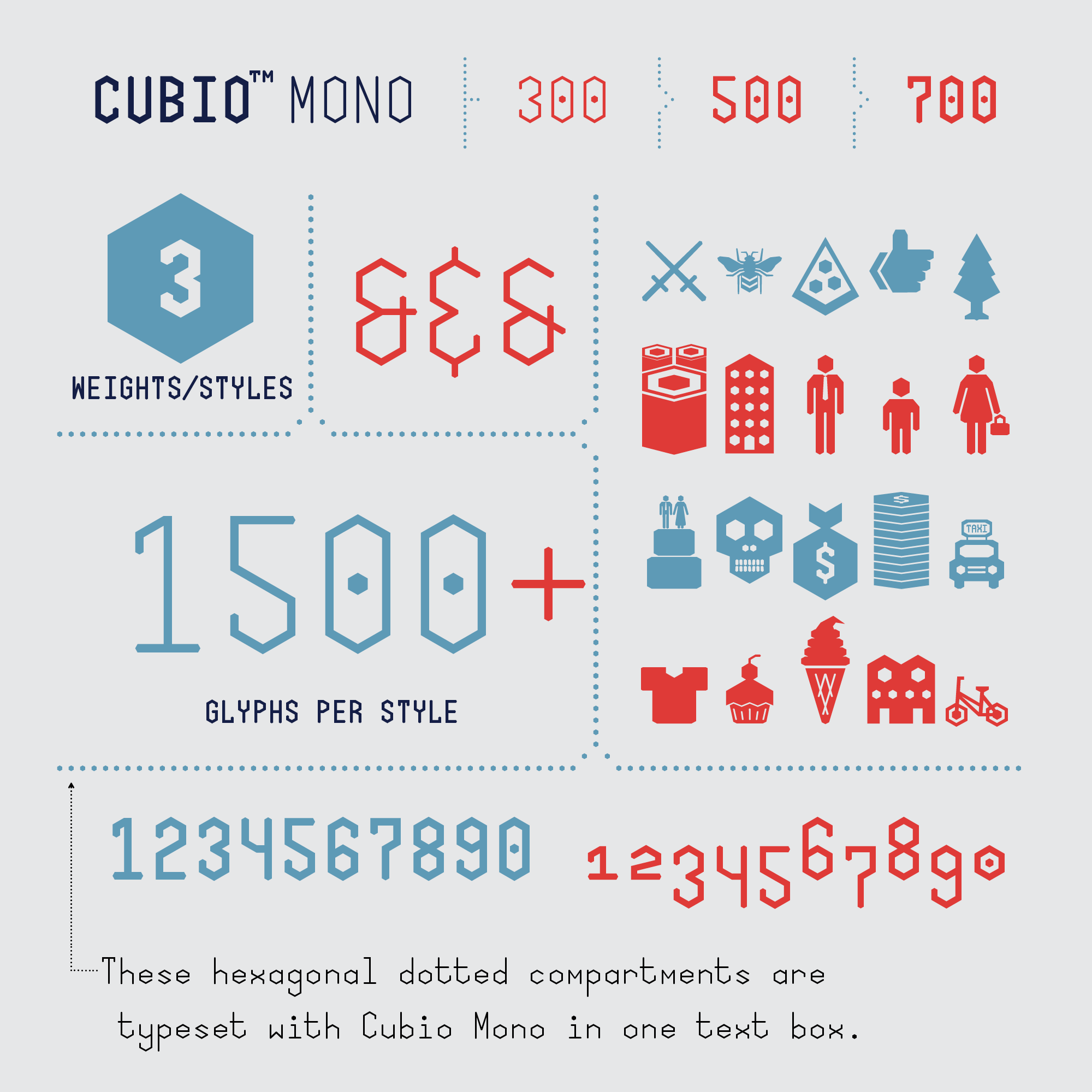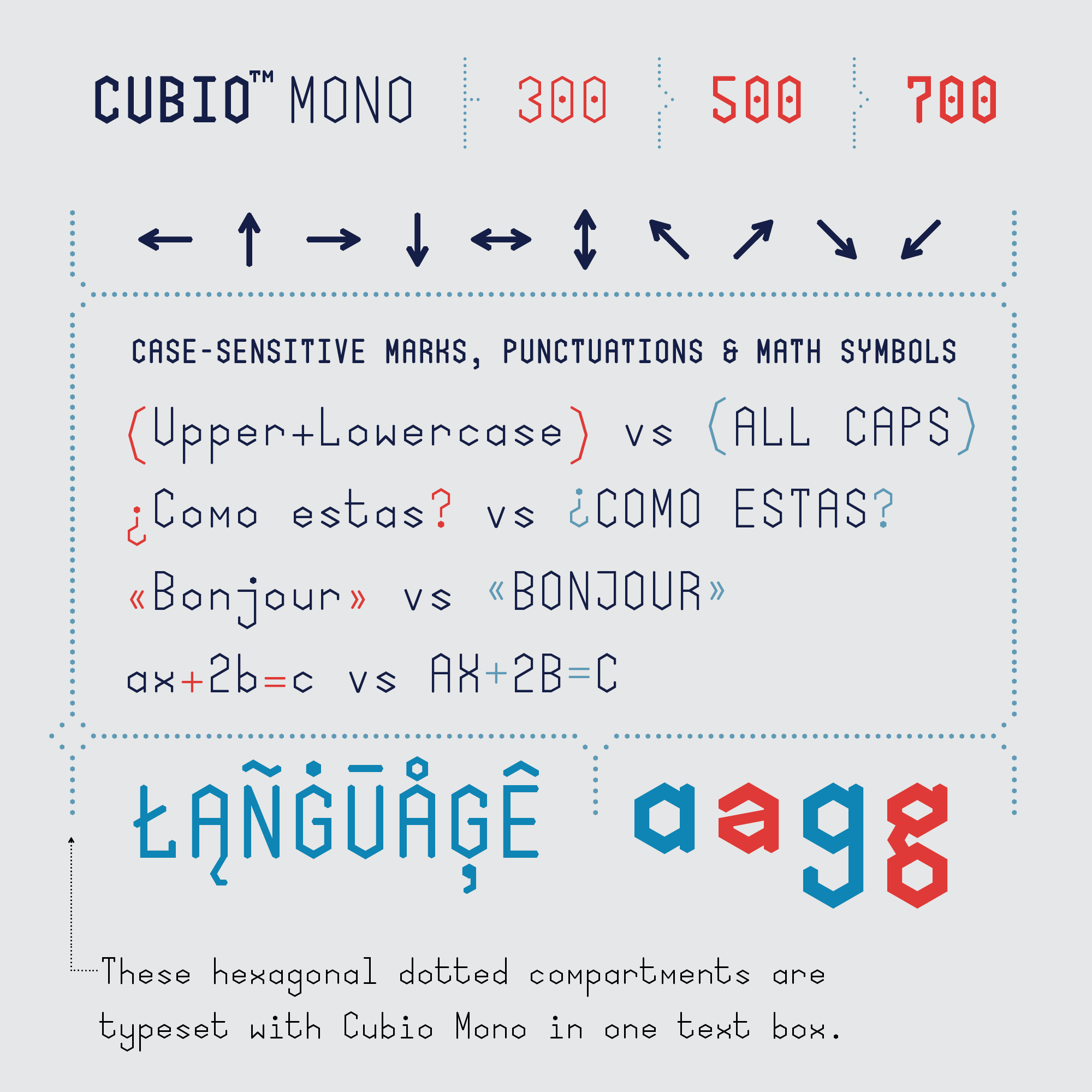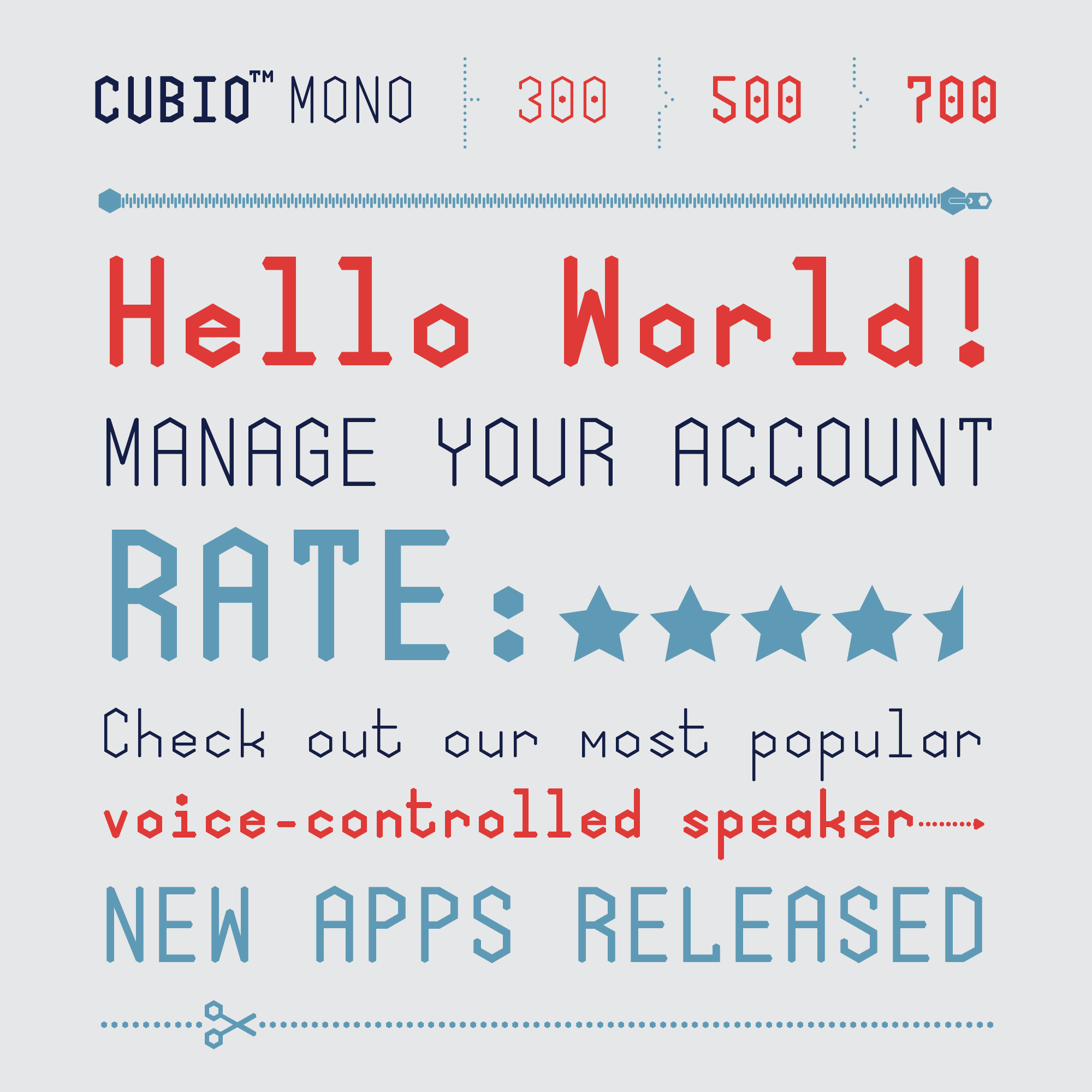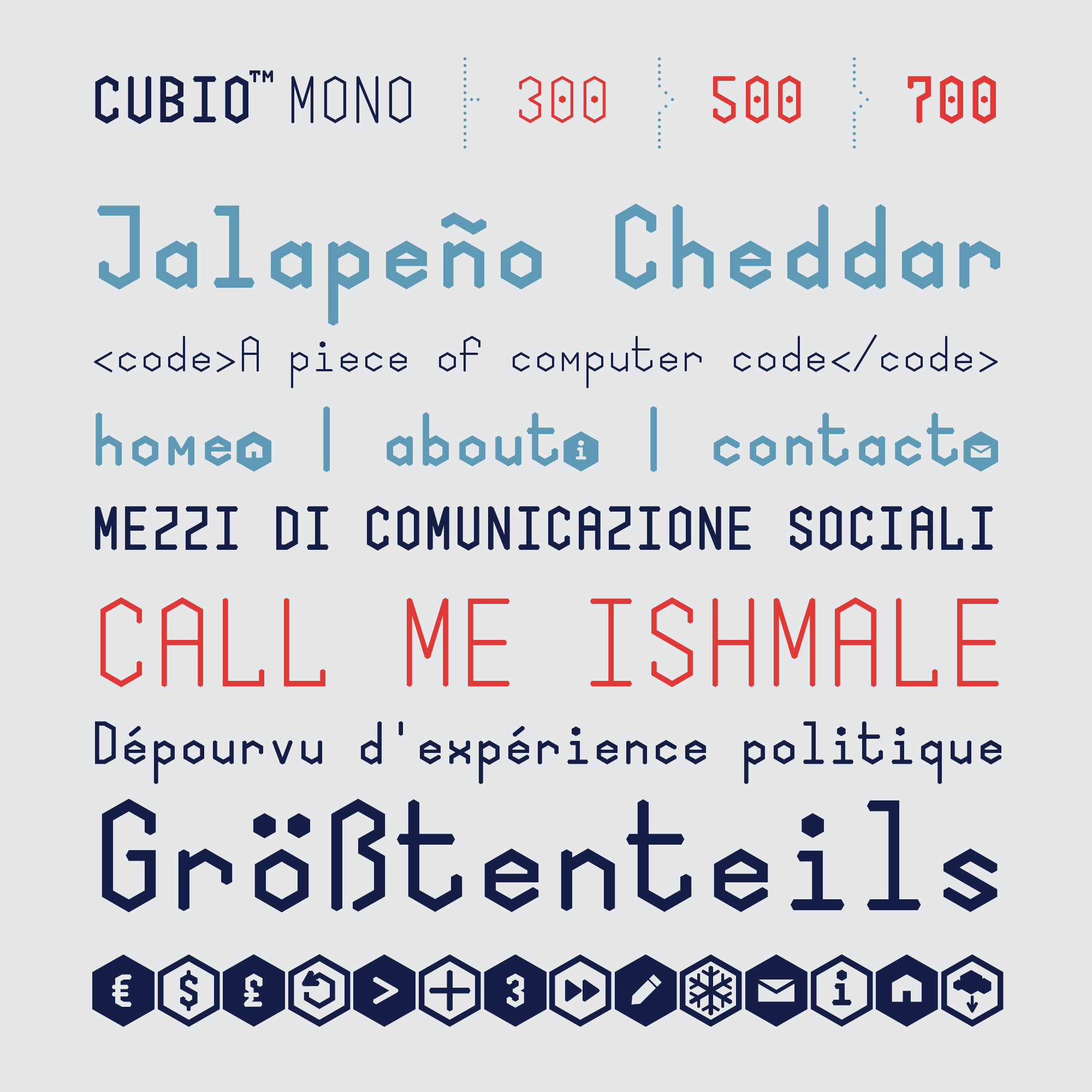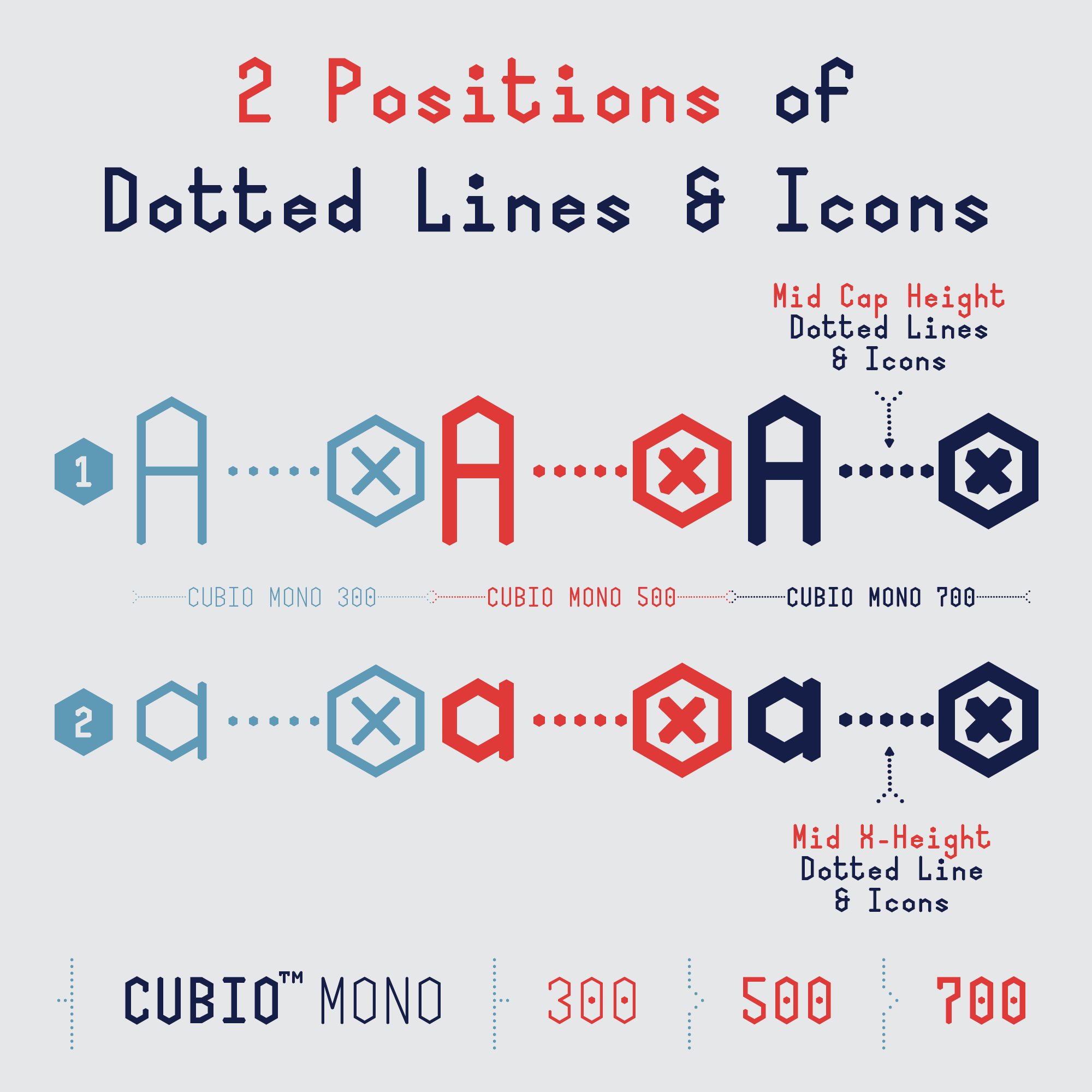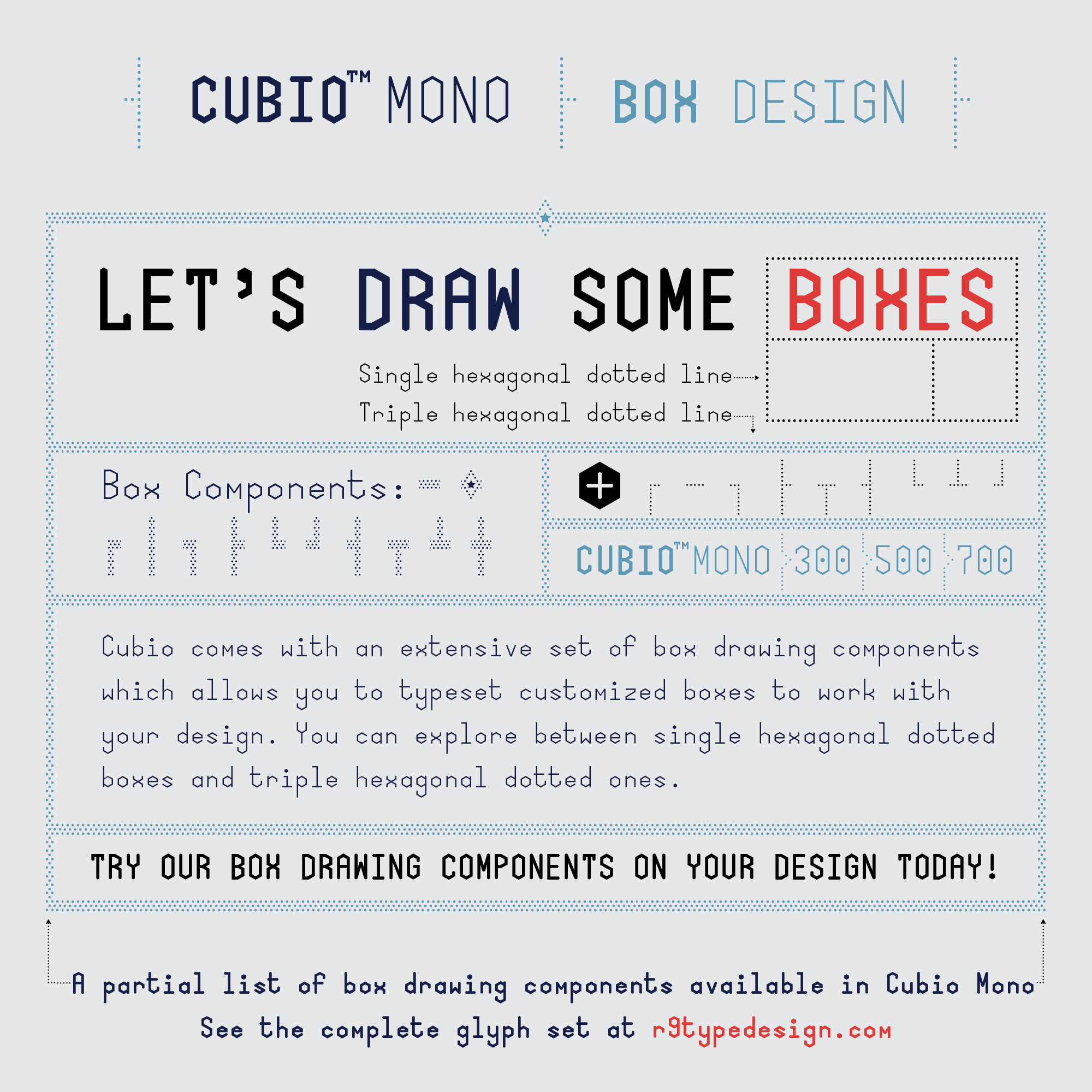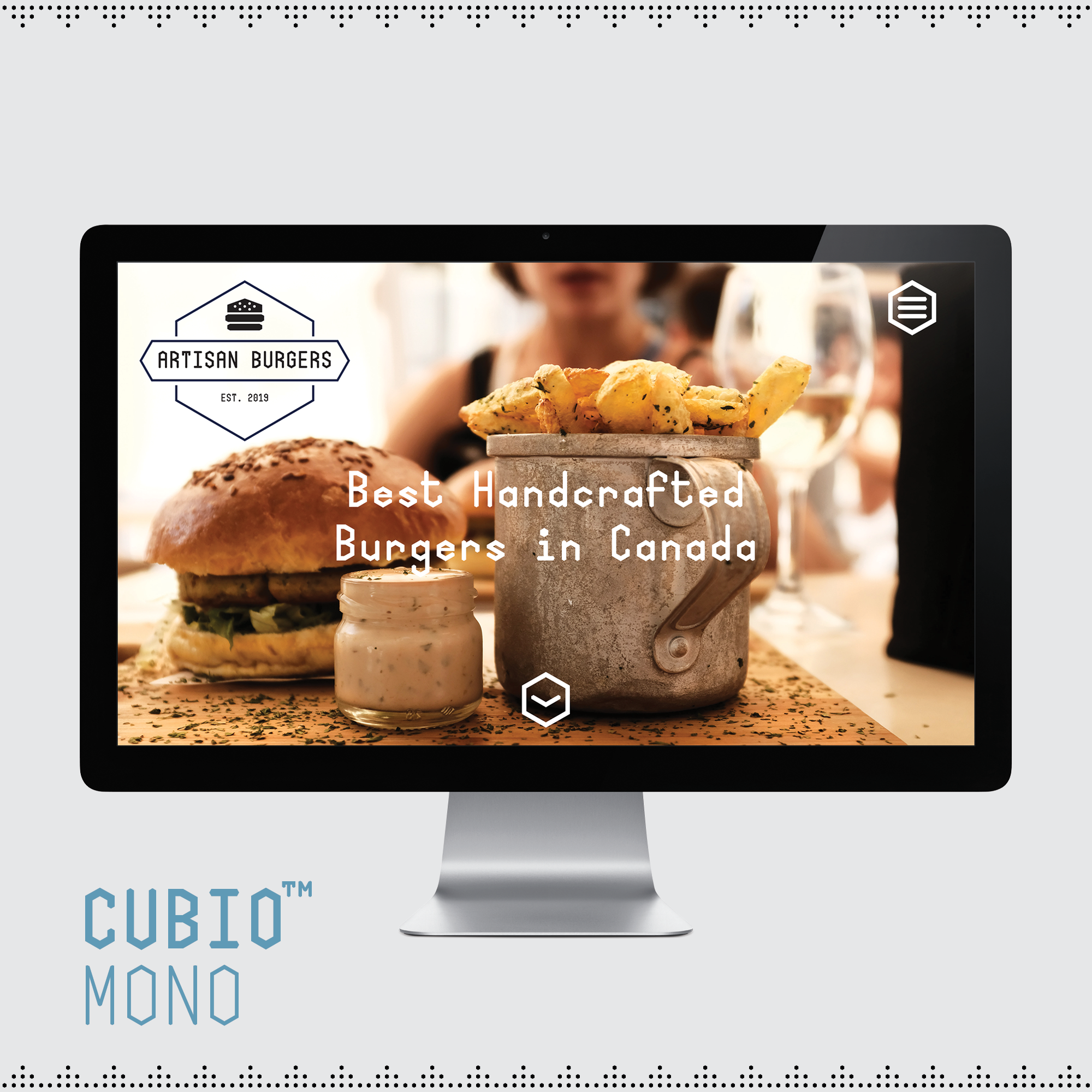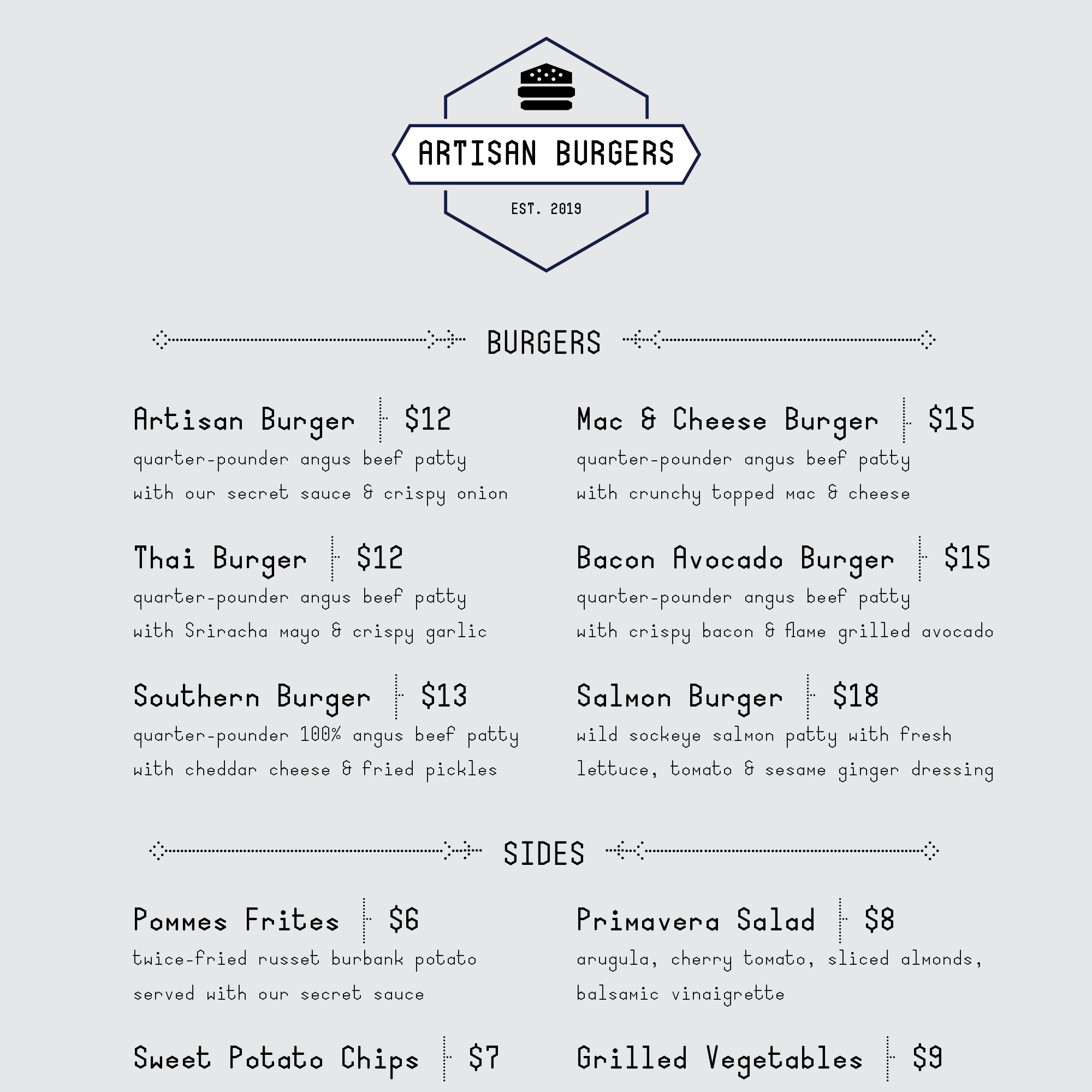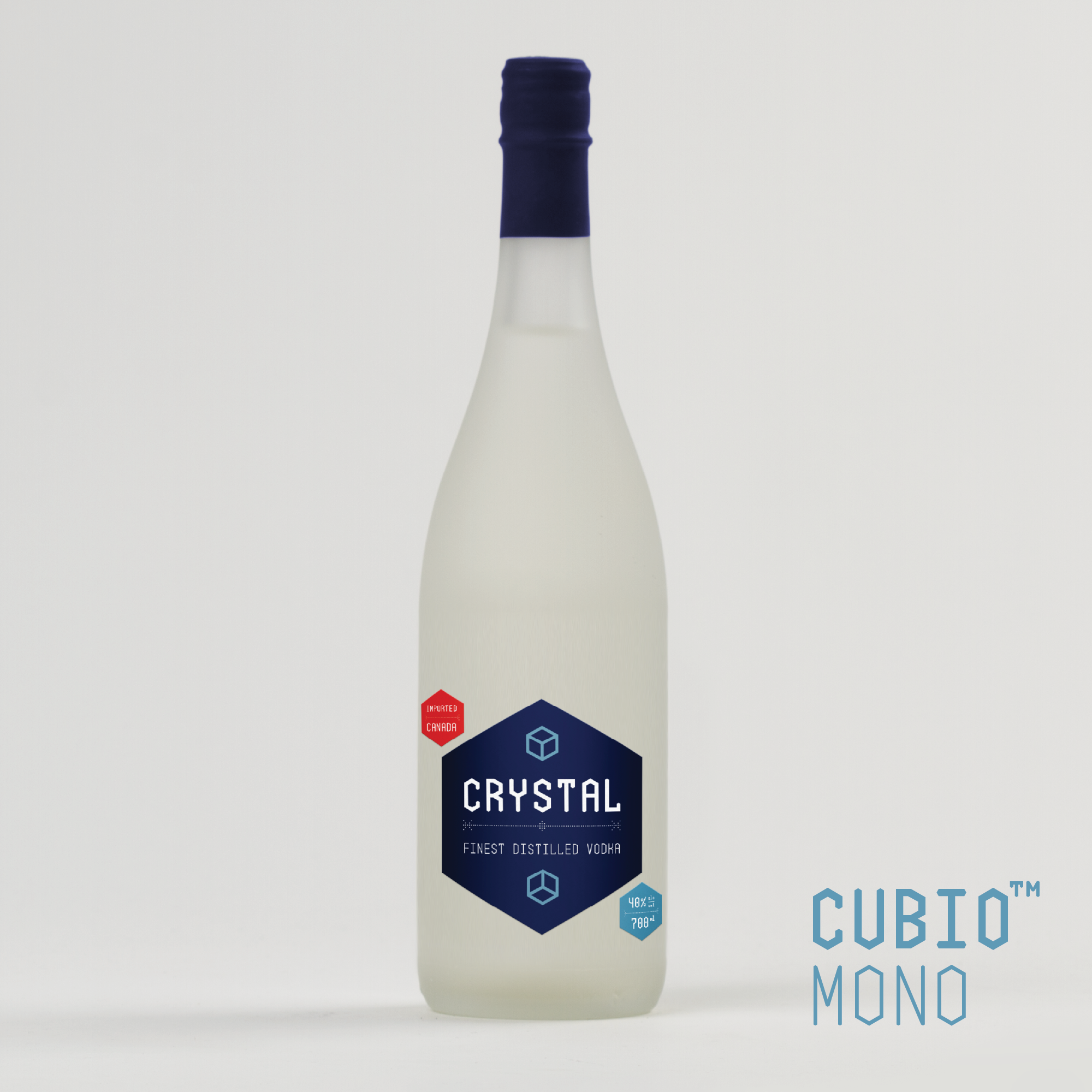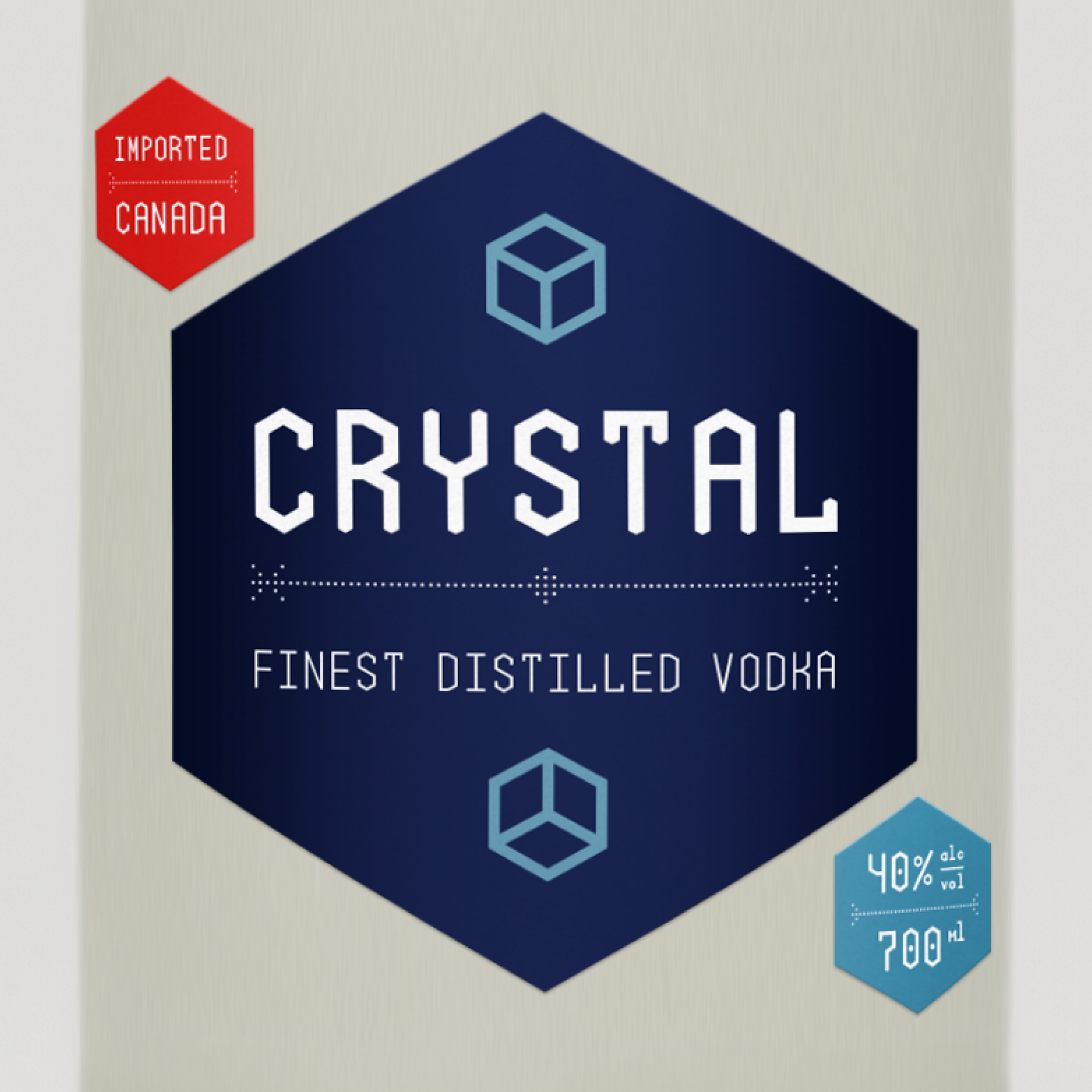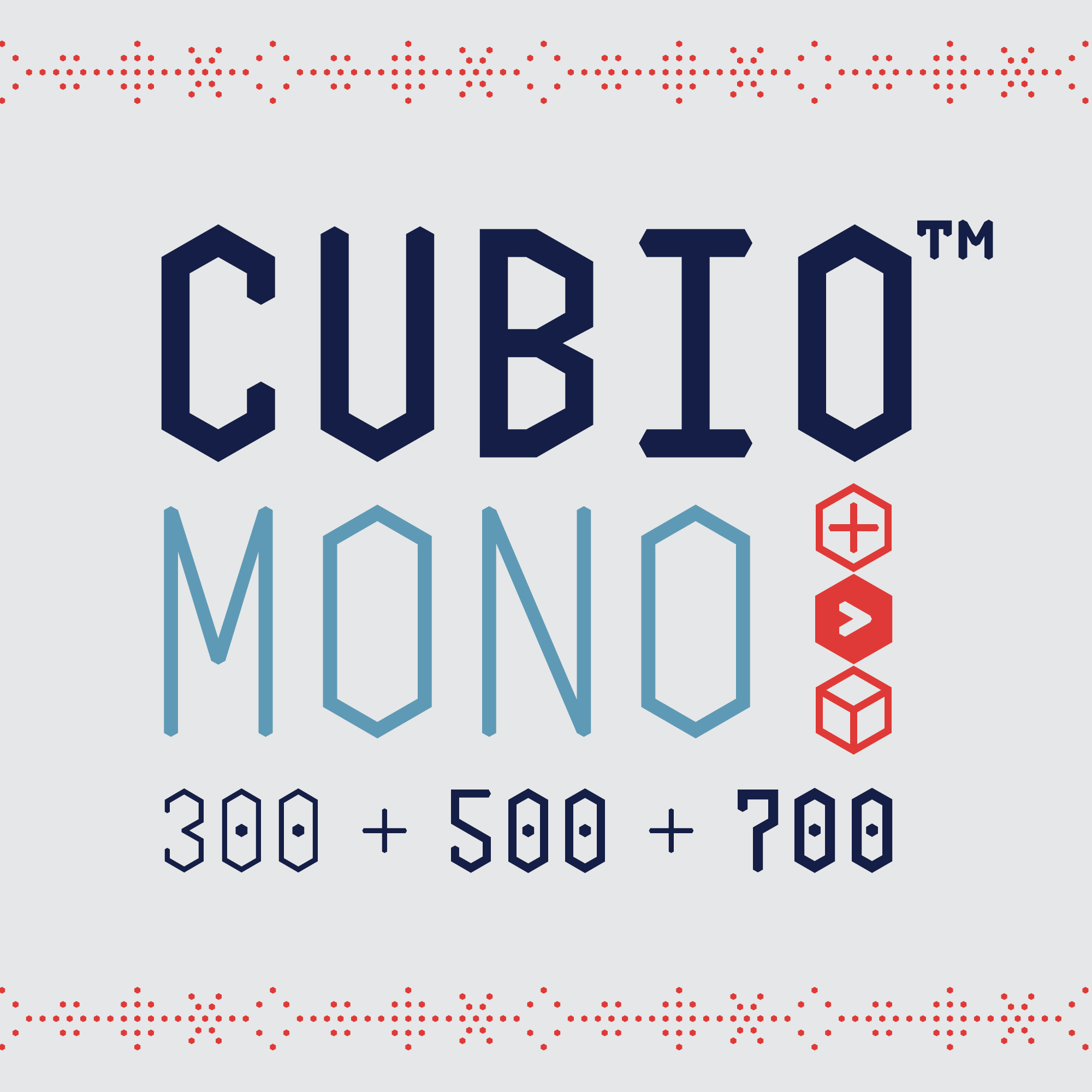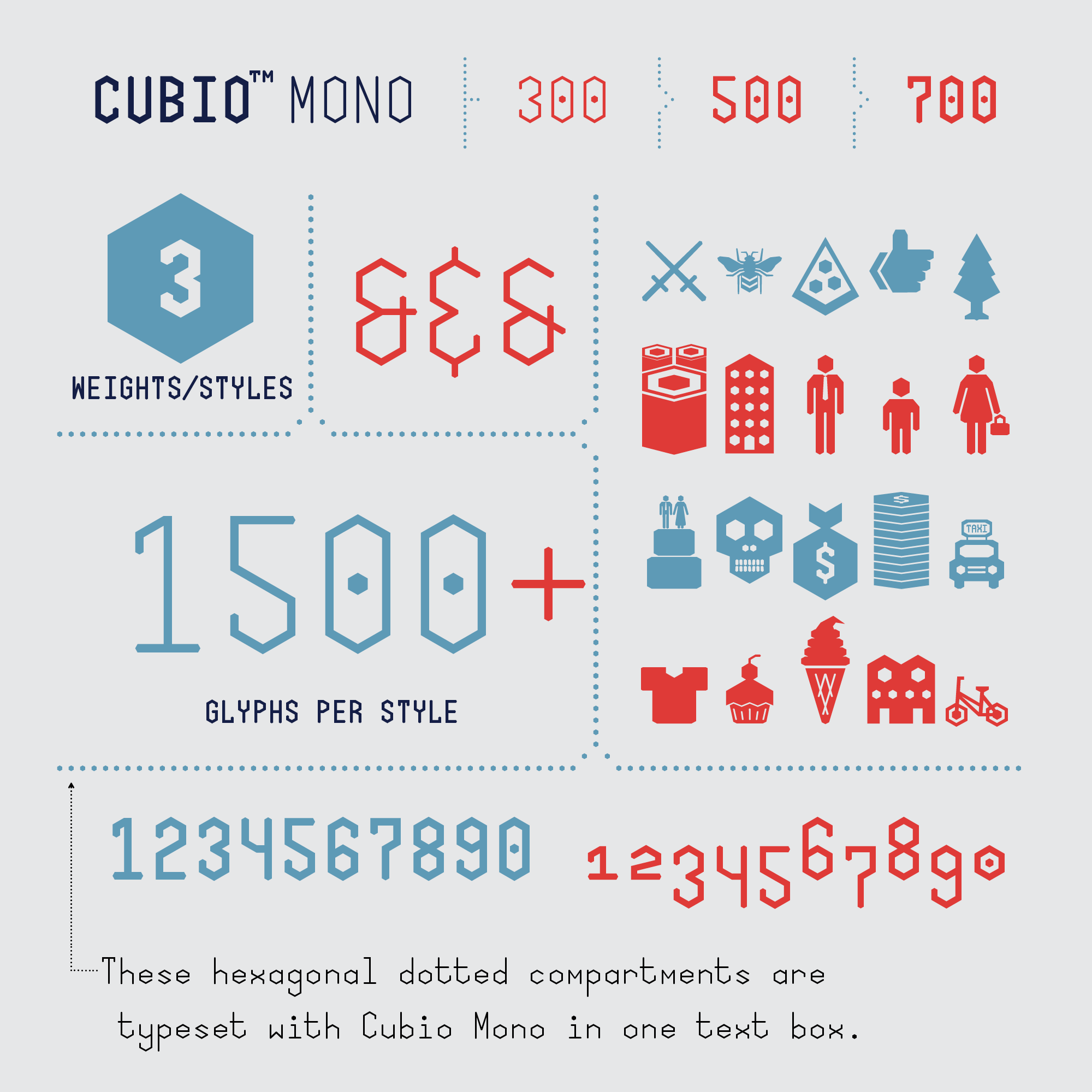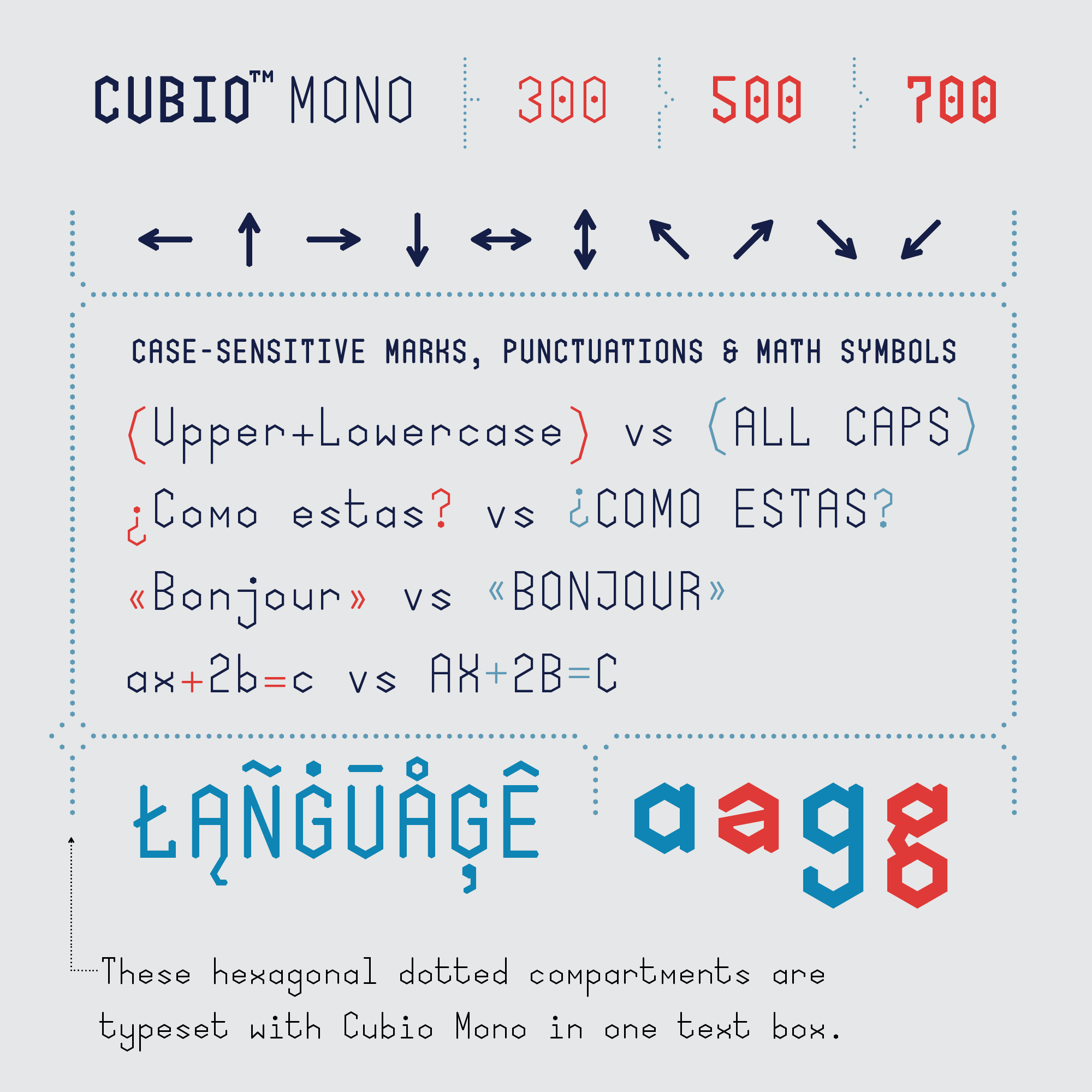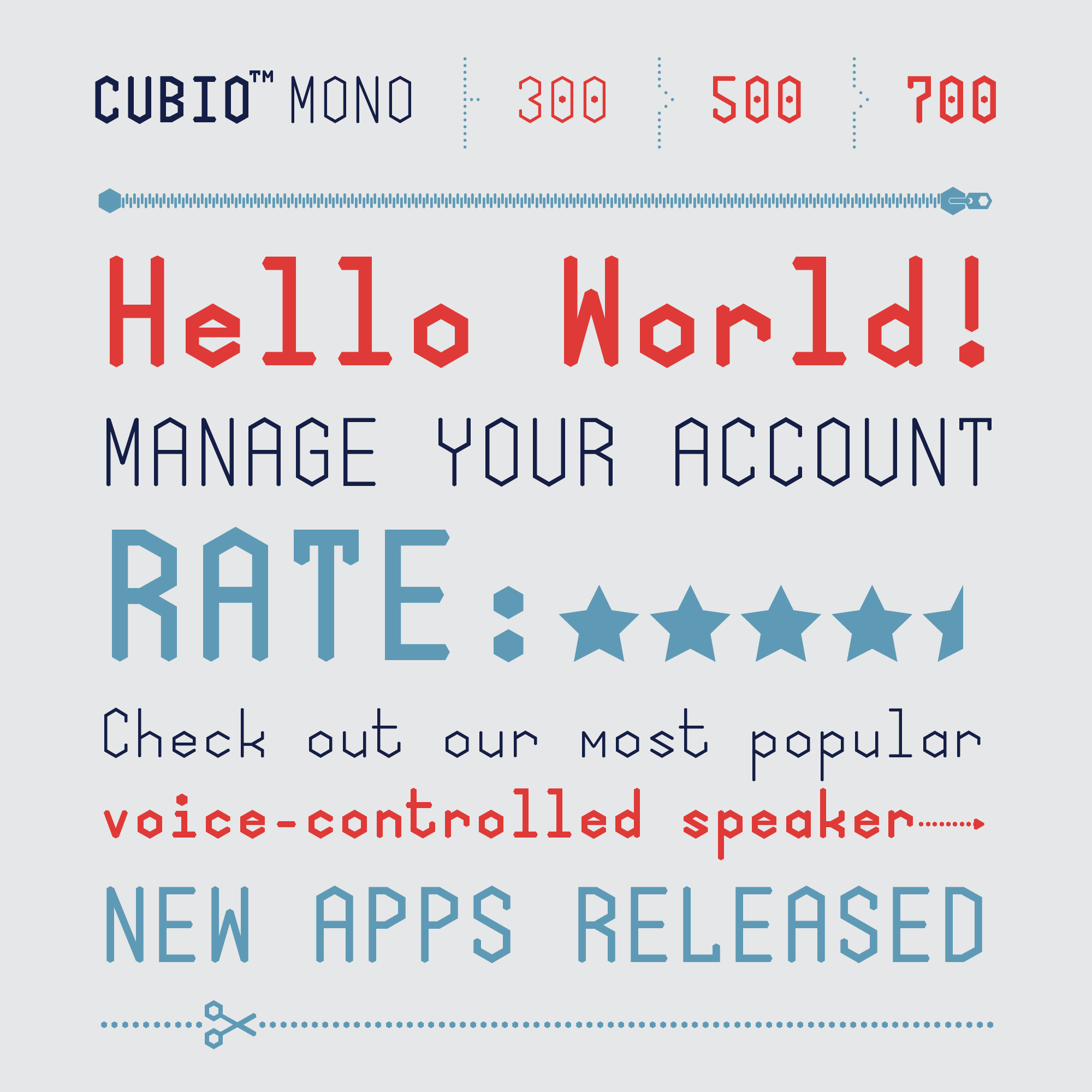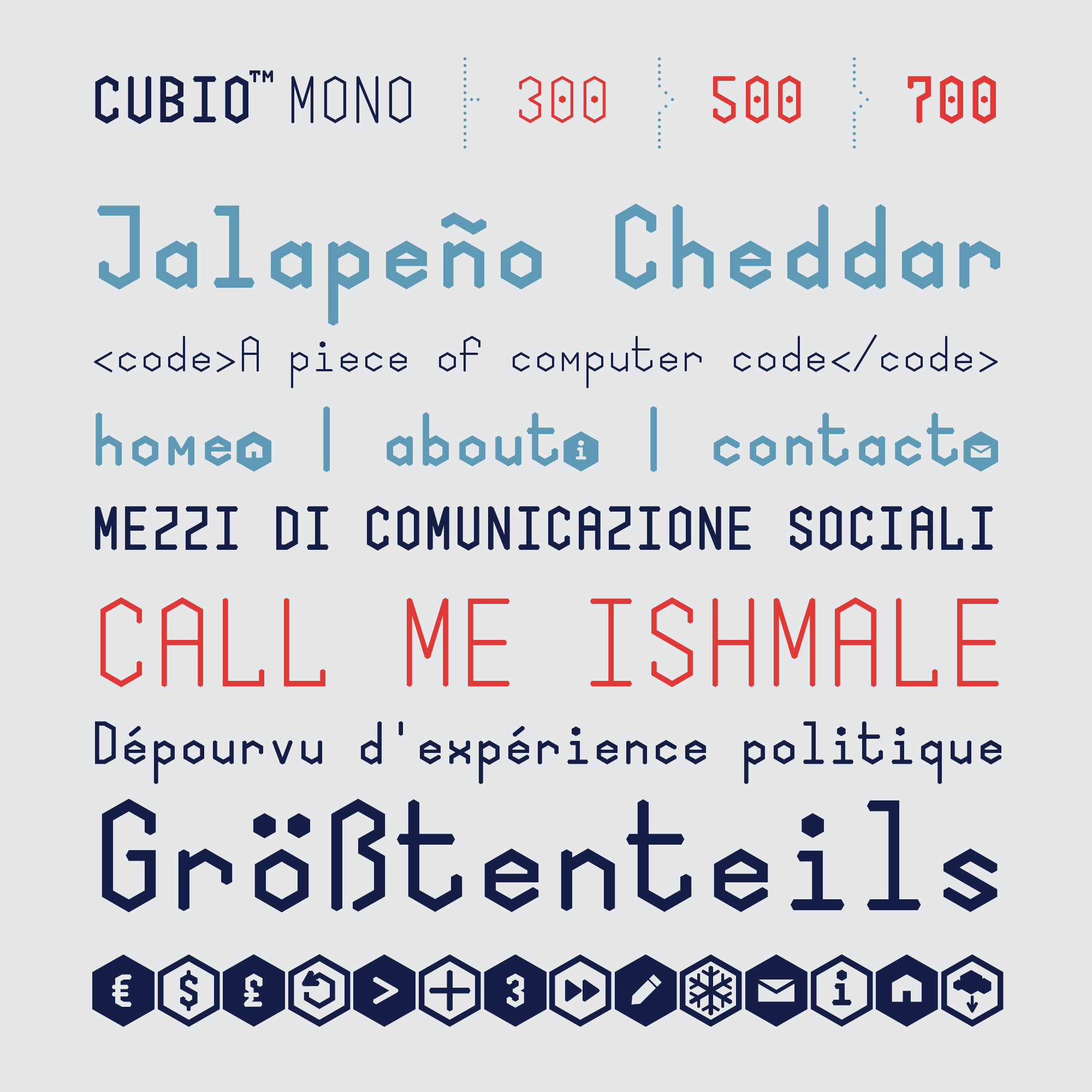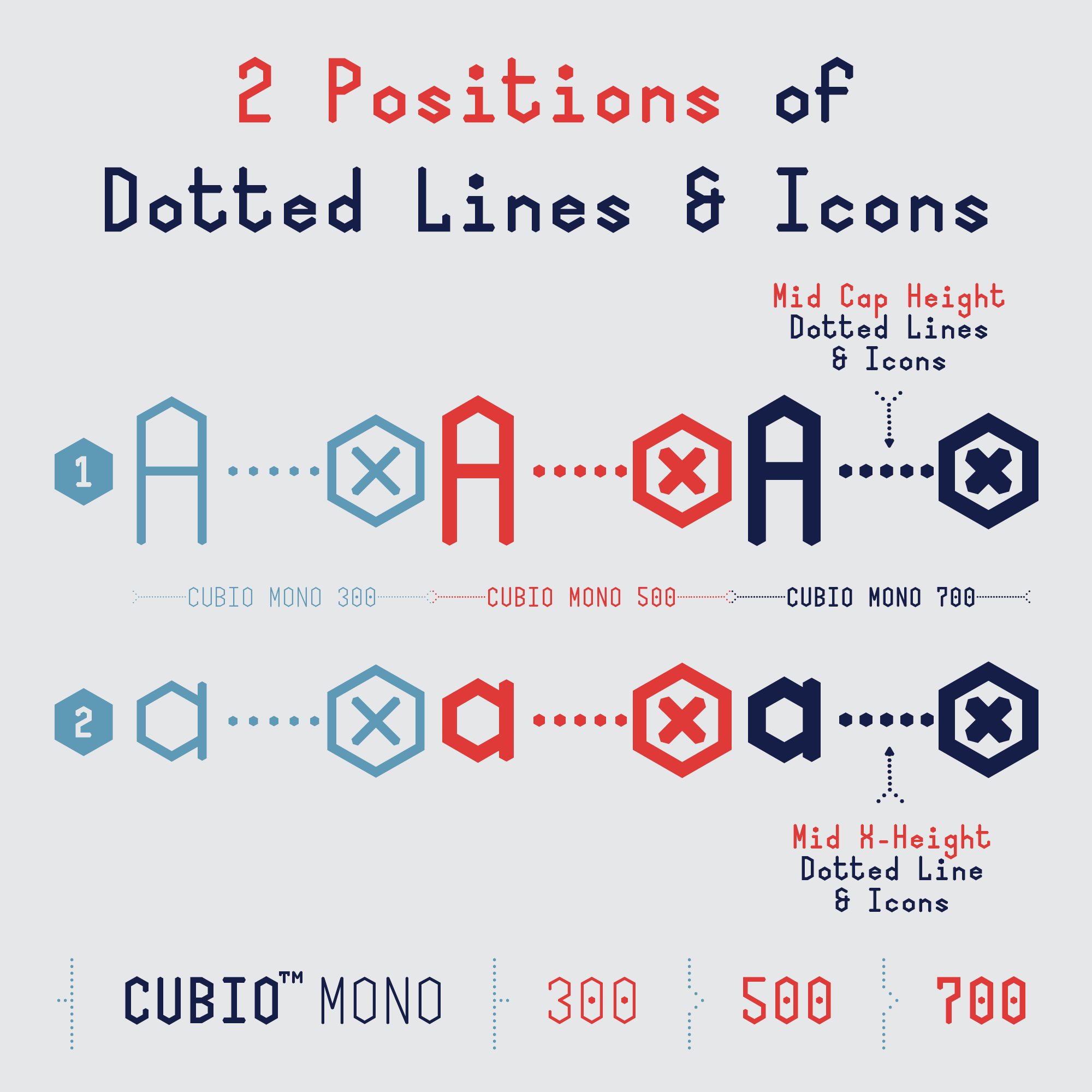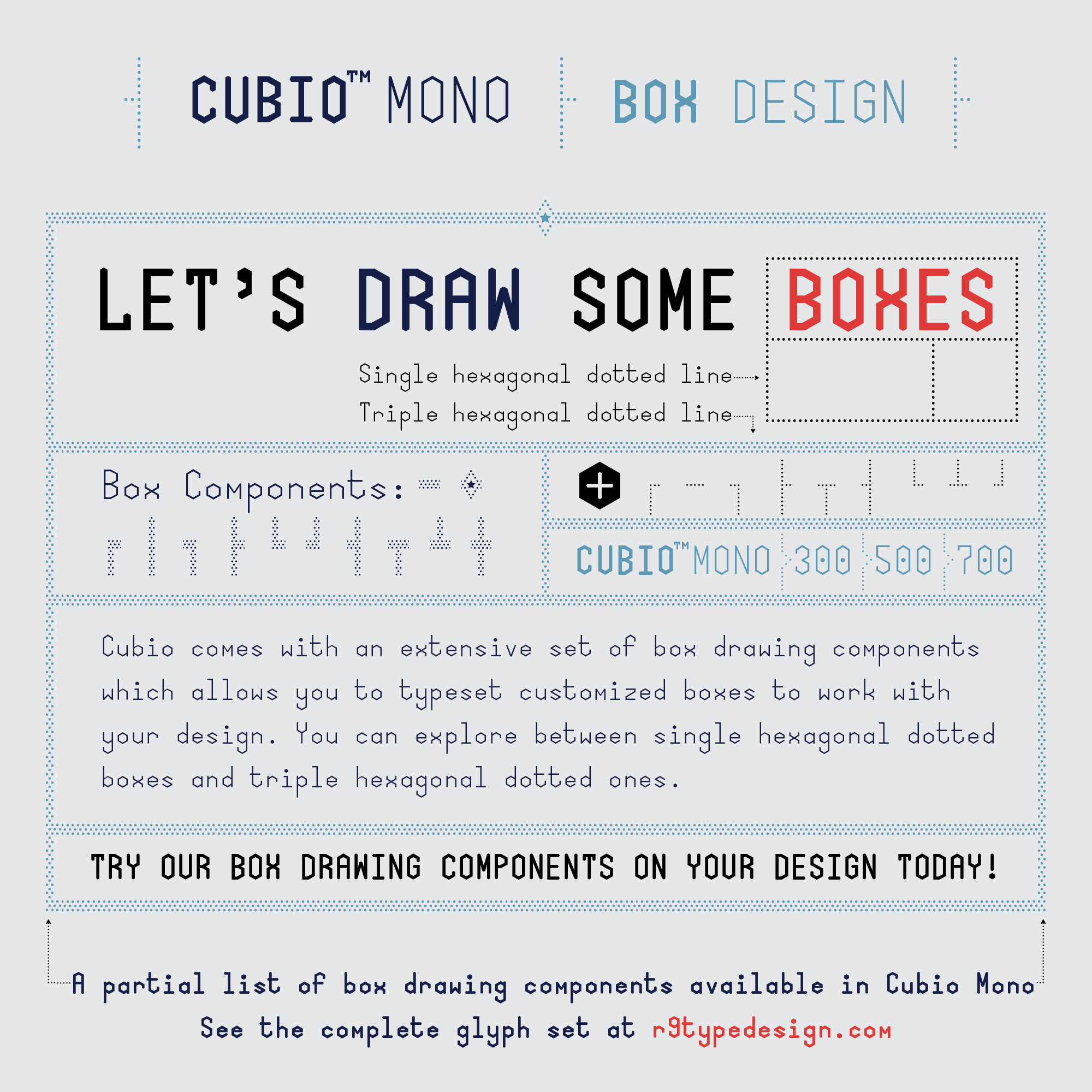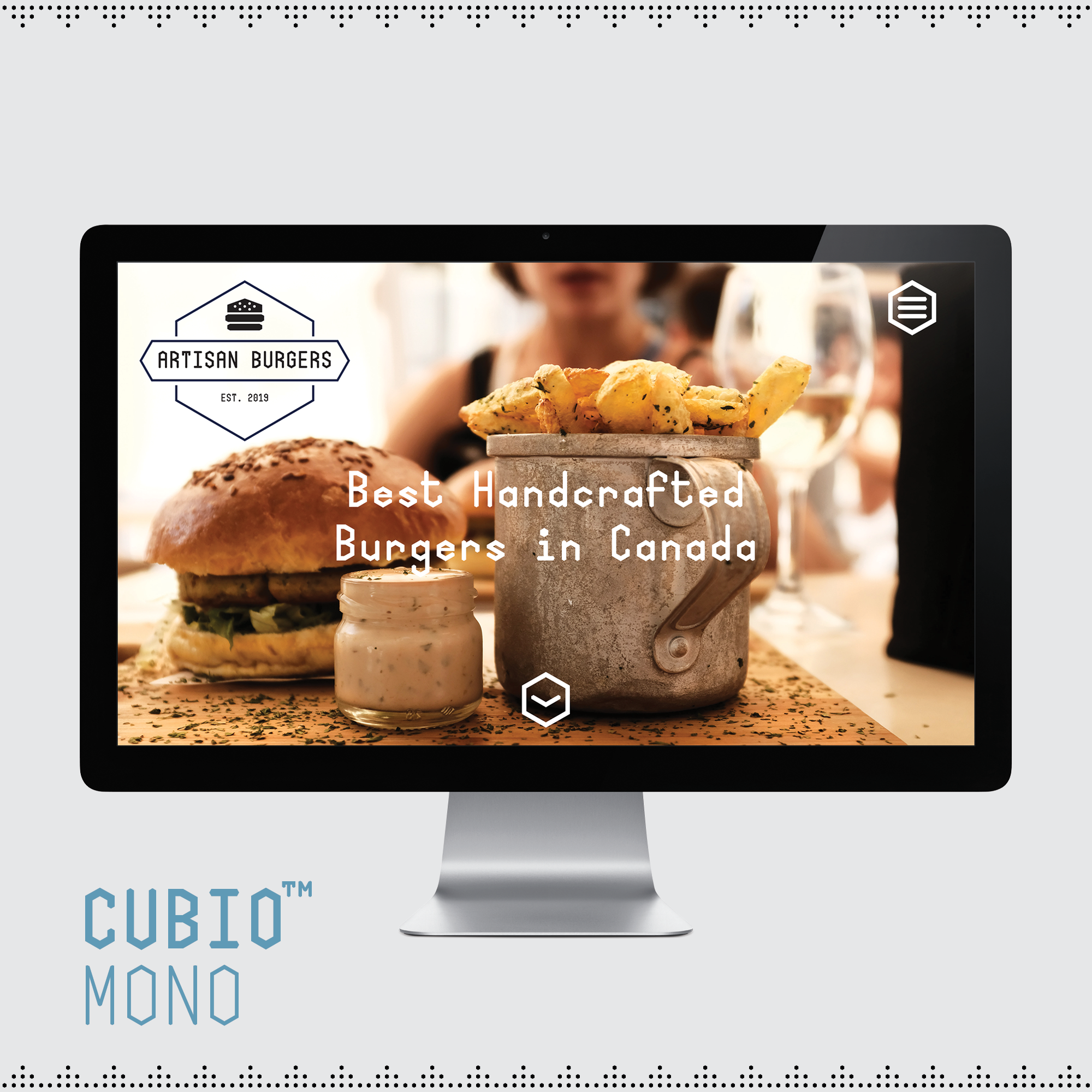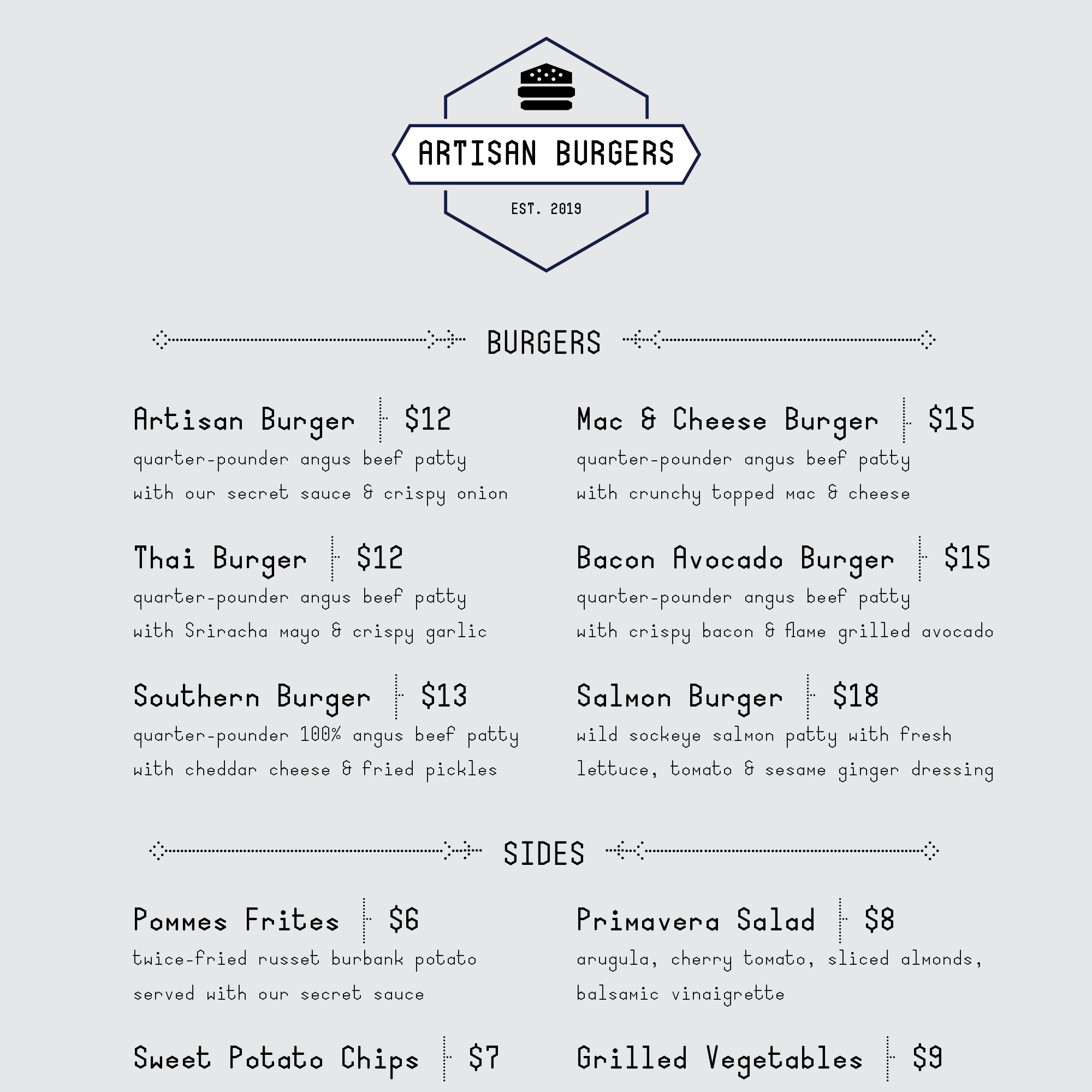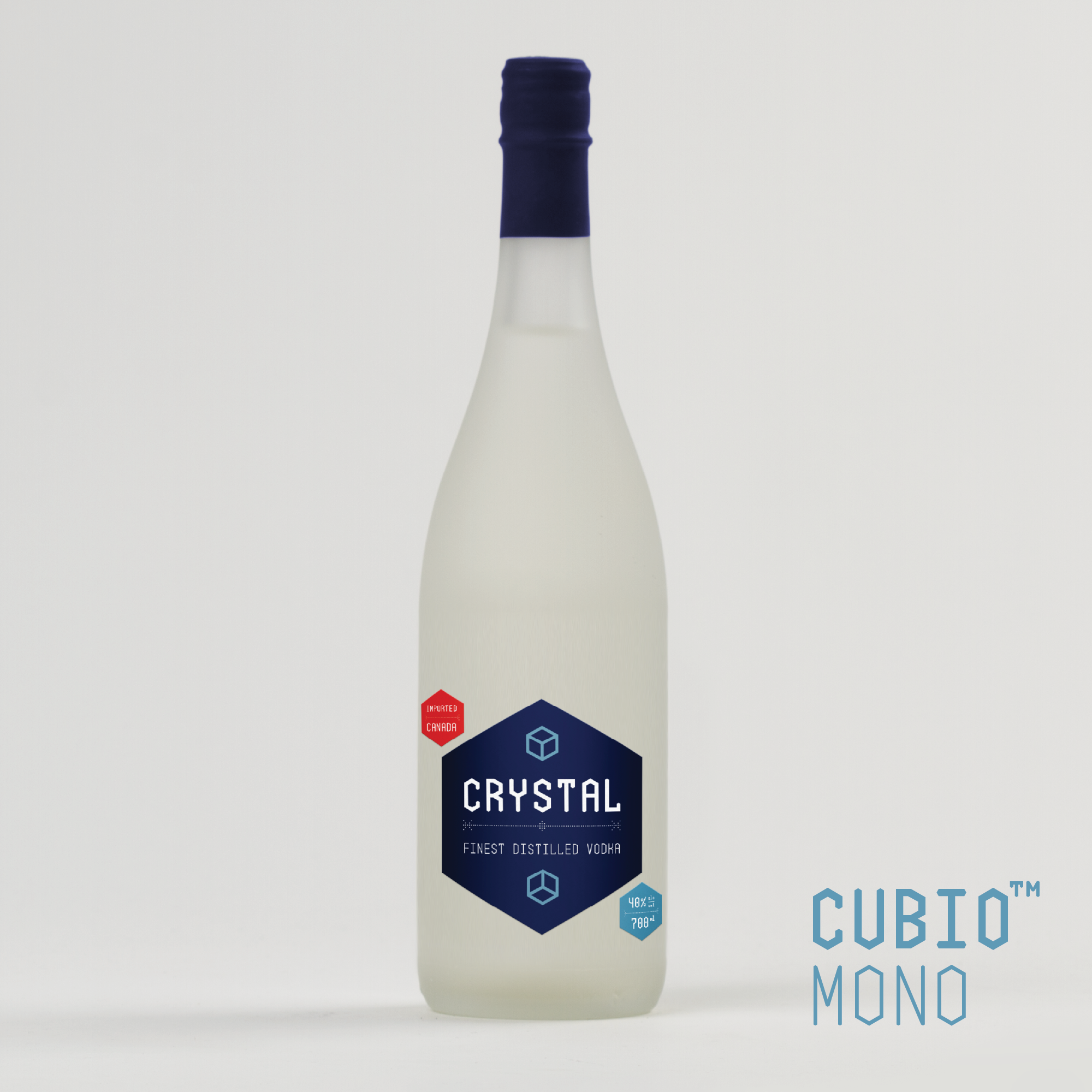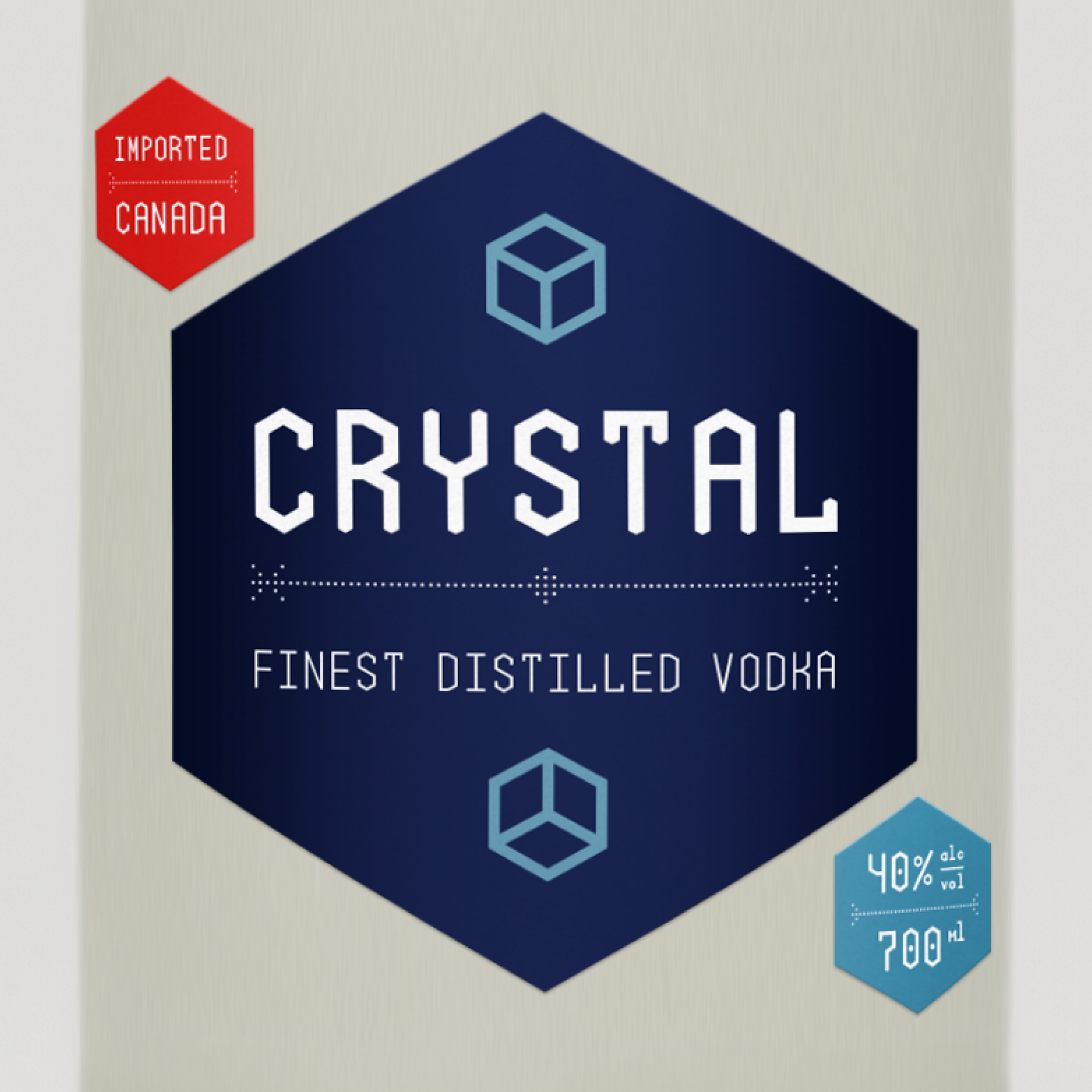 sale
Cubio™ Mono Font Family (Desktop + Web Fonts)
Cubio™ Mono is a new monospaced geometric sans serif inspired by the hexagonal silhouette of isometric cubes. We applied this angular form through all aspects of Cubio™ type design from the overall look of letters and icons down to the small details such as the end of each letter stem and hexagonal dotted lines.
Cubio Mono packs with features such as Case-sensitive marks, punctuations and Math Symbol. It also comes with an extensive set of box/compartment drawings glyphs to help you create a unique modern design without even using the line tools.
Cubio Mono is like a Swiss army knife. This font family comes in 3 weights/styles: 300 (Regular), 500 (Medium), and 700 (Bold). With over 1,500 glyphs each, Cubio Mono not only supports most Latin-based languages, but also features an extensive set of UX/UI icons, and patterns. Cubio Mono is a versatile typeface for both digital and traditional designs. Perfect for packaging design, logo design, print design, store signages, UX/UI web & apps designs.
FEATURE HIGHLIGHTS:
3 weights/styles with 1,500+ glyphs each

UX/UI icons and patterns are included

Box drawings components are also included

Case-sensitive marks, punctuations, and math symbols

Support most Latin-based languages. (See Cubio Mono glyphs table for details)
THIS PURCHASE INCLUDES:
1 Standard License for Desktop Font

1 Webfont License for Web Font

3 OTF and 3 TTF files of Cubio™ Mono in 300, 500, 700 weights

3 WOFF, 3 WOFF2, and 3 EOT files of Cubio™ Mono in 300, 500, 700 weights

Desktop Font Maximum Numbers of Allowable Computers: 4 seats

Web Font Maximum Numbers of Total Page Views: 25,000 pages/month
Please see the full Licensing Terms (EULA) for details.
NOTE: If you would like to use our fonts for more than 4 seats or purchase other buying options which are not readily available on our website, please send us an email. We will create a custom link for you. Or, if you are in a rush, please visit our font reseller partners at the links below: